Episode 14
Edit
Episode
Episode 14
Airdate
June 12, 2013

Created by

Aaron Hann

Mario Miscione

Vault Timeline

30 Minutes Remaining
The Vault is coming to an end and Henry gets face-to-face with his next challenge...among other things.
With only two players left, emotions and stress run high, and time runs fast. Henry and Alex struggle to deal with all that has happened while still trying to solve the final clue, but once they do, as per usual with The Vault, the answer only reveals more questions.  The Vault opens up, and Henry is able to move about and explore. Not everything is as he pictured, and what more can he solve on his own? Characters come face-to-face for the first time ever and work together...to win the game..or simply to get home.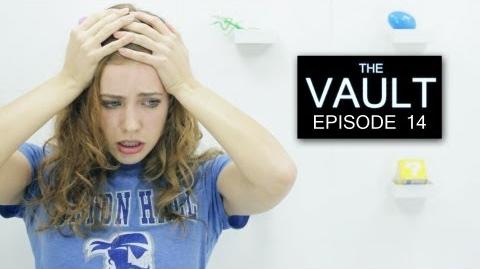 Ad blocker interference detected!
Wikia is a free-to-use site that makes money from advertising. We have a modified experience for viewers using ad blockers

Wikia is not accessible if you've made further modifications. Remove the custom ad blocker rule(s) and the page will load as expected.